Among the many jewels we have in Maremma, we must absolutely introduce you to the beautiful and wild Island of Giglio
The population centers of the island are three: Giglio Campese, Giglio Porto, and Giglio Castello.
Giglio Porto is the only port of the island, just landed you will find in front of you many shops with souvenirs and typical local products, the smell of freshly cooked fish instead will lead you to the delicious restaurants or else you can stop in one of the many bars to enjoy a nice ice cream.
Giglio Castello instead is located in the highest part of the island, of medieval origins is characterized by the Rocca Aldobrandesca from which, on the clearest days, you can admire the Island of Elba and Corsica.
In Giglio Campese instead you will find the largest beach of the island, typical of Campese is the reddish sand composed of pink crystal fragments.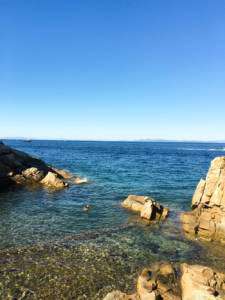 In addition to the beach of Giglio Campese we recommend the Caldane beach, on the other side of the island and not far from the latter, via a path you can reach the beach of Cannelle easily reachable even a short walk from Giglio Porto. If you want more privacy and you are not fans of the beaches too frequented we suggest the beach of Arenella, north of the island, where you will find both rocks and sand and especially the most crystalline sea you have ever seen, do not miss starting right from this beach the Cala del lazzeretto the Cala di mezzo and Cala cupa.
Even if you are a trekking lover, a nice holiday on Isola del Giglio is absolutely for you!
The territory is mostly untouched, wild and walking through its many paths will allow you to enjoy beautiful landscapes far from the busiest places.
Among the most beautiful trails, the one that goes from the Cinnamon to the Caldane, or from the port to the Arenella Beach, a challenging but suggestive path that goes from the Vaccarecce to Scopeto.
No you have to arm yourself with comfortable shoes, so much water and leave!