Today we are talking about a real jewel of the sea: the Montecristo Island which has become famous thanks to Alexander Dumas' novel "Il Conte di Montecristo", which tells the story of a treasure in the Abbey of San Mamiliano.
Montecristo is located to the south of the island of Elba, to the west of the island of Giglio and Mount Argentario and southeast of the island of Pianosa.
Consider that access to the island is managed by the Follonica State Forestry Command and only 1000 people from April to September can visit it by making a request or relying on organised tours.
Through two routes you can reach the remains of a Benedictine convent built in the 7th century and the beautiful Grotta del Santo, two very suggestive walks, only to you in close contact with nature; On the island only the caretaker lives with his wife!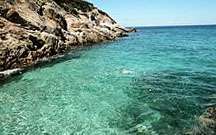 Montecristo Island is protected since 1971, making it the most wild and magical island of the Tuscan archipelago, but there is someone besides the two caretakers whom you will meet: about 500 specimens of wild goats originating in Asia Minor They found their perfect habitat in the Mediterranean scrub! The shape of the island is pyramidal, it is predominantly mountainous and consists mostly of grey – pink granite. The highest peaks of Montecristo are Monte Fortezza, about 645 meters and Cima dei Lecci of 563 meters; While the only landing point is the Cala Maestra. Where is also the nineteenth-century Villa Reale, with a small museum of natural history.
The island's vegetation is typical of Mediterranean scrub that helps to make the island look more attractive with its wild nature.
If you want to get away from everyday routines, even if for only a day, do not miss the opportunity to visit the Montecristo Island, you will miss the natural sounds admiring the extraordinary beauty surrounded by the bluest sea you can imagine.